Free Shipping Worldwide from our Warehouse at Shenzhen, China, where all flashcard manufactures located. Orders will be shipped within 1-2 business days (Any Chinese Festival Holiday will be informed in advance). Read our shipping & returns policy before your ordering.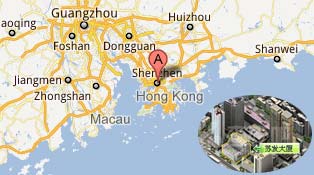 Shipping Methods
What shipping method does R4 DS Australia supply ?

(1) 4PX Unite Post, (2) China Registered Airmail, (3) Singapore Registered Airmail, (4) China EMS Express, (5) DHL Express
What shipping method will be for my order ?
Shipping fee increased a lot since year 2018, lowest shipping fee costs 4.5aud, now we only provide free registered airmail for order more than $50aud;
Order more than $150aud Will be shipped by EMS/DHL Express shipping for free;
EMS / DHL is also available for every order with Express shipping fee paid.
What delivery companies do you use ?
China Airmail / Singapore Registered Airmail / EMS – Delivery by Australia Post
4PX Unite Post – Delivery by Aramex Australia , PFL, or Australia Post (remote area)
DHL Express – Delivery by DHL staffs
What should I pay attention to when I choose free China Airmail / Singapore Registered Airmail, 4PX Unite Post ?
Free China Airmail – Can track whether it has left China for Australia, further information can be checked at Australian Post official Twitter channel – https://twitter.com/auspost
Singapore Registered Airmail – Can track whether it has left Singapore for Australia, further infomation can be checked at Australian Post official Twitter channel – https://twitter.com/auspost
China, Singapore Registered Airmail or 4PX Unite Post – Someone on your premise will have to sign for the item. If no one is available Australia post will 'card you'. You will see a small card in your letter box. It should have the address of the post office where your item is being held. You take the card to the PO box, with some identification, and pick up your product. You cannot track registered post online, you can ring Australia post to check where your item is when it has arrived in your state.
Remote regions for 4PX Unite Post – covering zip codes as following 2264-2281, 2311-2484, 2487-2499, 2533-2554, 2575-2599, 2621-2639, 2642-2707, 2710-2739, 2787-2889, 2898-2899, 3221-3334, 3342-3349, 3351-3352, 3357-3426, 3444-3688, 3691-3749, 3812-3909, 3921-3925, 3945-3974, 3979, 3984-3999, 4309-4499, 4580-4999, 5201-5749, 6215-6799, 7020-7049, 7054, 7109-7171, 7173-7247, 7255-7257, 7330-7799, 800-999, 9920-9998
What notice is for Express Shipping Method chosen ?
The DHL Express shipping method is the fastest available. By choosing Express shipping, we will select the best Express shipping method corresponding to your location. You will usually receive your order within 3 to 5 business days after your order is shipped. You can track your order very accurately at any time. (While for Christmas, current DHL have 4-6 days delay than normal time)
Rates range from $20aud to $0.00 (for orders less than $150aud). There is no fixed rate: the higher amount your order is, the cheaper the shipping fee will be!
Express always requires both the signature and phone number of addressee;
Remote Area: if your geographical location is considered "Remote Area" by DHL, we will not be able to ship your order using either delivery companies (it would require an extra $50aud fee which by default we believe the customer is not willing to pay). So we will automatically revert to EMS, which takes slightly longer, usually 5 to 7 business days. DHL Please use this link (http://dct.dhl.com/) to check whether or not your area is considered remote. (1, Choose and type HongKong as origin; 2, Choose your shipping region as destination; 3, Search and Check whether there is remote area delivery fee; as shown below)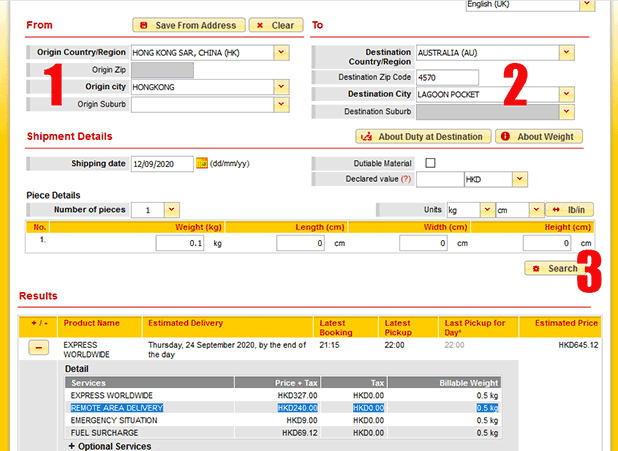 Someone on your premise will have to sign for the item. If no one is available DHL/EMS will try again the next day. If you are not available again you will have a week or so to pick it up from DHL/EMS location in your city.
Once choosing DHL Express, please make sure your phone number is correct and reachable, if DHL failed to deliver/contact you, they will hold the parcel several days before destroying the parcel although we will also email timely to contact you for effective phone number. Once being destroyed, you will be responsible for the loss.
Tracking Online
When online tracking information is available ?
China Airmail – 1 days after being posted;
Singapore Registered Airmail – 1 day after shipment;
4PX Unite Post – 2 days after shipment;
DHL Express – 12 ~ 24 hours after being shipped;
EMS Express – 2 day after being shipped.
Where to track my package ?
All items are sent with tracking numbers, and signatures are required. If you are not home, the package will usually go to the nearest post office (or Fedex depot if you choose Fedex) for collection. It is the customers responsibility to make sure they are able to pick up the item from the post office within a week of attempted delivery. If the item is not picked up within this period, it will then make its way back to us.
How to get latest package status when it arrives in Australia ?
Airmail without tracking number – Usually arrives within the time frame
Registered Airmail with tracking number – Send status enquiry to Australia Post
Express – Track online at its official website
Delivery Time
Delivery Expected during COVID-19 pandemic(2022-2-14 updated)
China Register Airmail => 25-50 days
4PX Unite Post => 10-30 days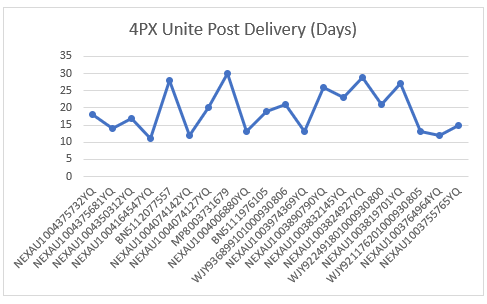 EMS Express => 14-20 days
DHL Express => 14-18 days
Singapore Airmail => Not available yet
Below delivery expected are for normal time.
China Register Airmail => 10-25 days after shipment
Singapore post => 10-25 days after shipment
4PX Unite Post => 10-18 days after shipment
EMS Express => 6-8 days
DHL Express => 4-6 days
Note: The delivery time expected above is for Australia and New Zealand in normal time, Delivery during Holiday season and special Festival will be announced in advance. Contact us for other countries.
Warranty & Returns Policy
Warranty
6 Months Quality Warranty— If any quality problem with products within 6 months quality warranty, can get them replaced for the same product with the same version for free. Customer is responsible for shipping-back fee. ( Note: (1) Flashcard version update is not in 6 months quality warranty. For example, you bought and ran a R4i-Gold V1.4 well and now R4i-gold.com changed its version into R4i-gold V1.4.1, former R4i-Gold V1.4 does not support DSi FW 1.4.1, R4 DS Australia will not have R4i-Gold v1.4 replaced with R4i-gold V1.4.1 for you; (2) If the flashcard has been out of production, the flashcard will automatically be out of 6 Months Quality Warranty and it is qualified with one Month Quality Warranty )
Cancel Orders
If an order is canceled before shipping out to you, no fee will be charged
If your order has been shipped out, you can return the package for refund issue ( Refers to Returns Policy below )
Overdue Items
China/Singapore registered airmail or 4PX Unite Post, Re-shipping or full refund available 40 days after payment;
For EMS / DHL Express, Re-shipping or full refund available 25 days after payment
Returns Policy
Please make sure that you understand our return policy and ensure that all criteria are met before physically sending any items back to R4-DS-AU.COM.
Please note that we cannot process any products that are returned without our prior knowledge. If you wish to return any or all parts of your order, you can login your account, submit a request and obtain a "RMA Requests" Form that must be included with your package. Or contact us directly.
Quality Issues — If a product has quality problems within 7 days time which starts from the day of customers receiving it, r4-ds-au.com will be responsible for exchanging your item or returning a full refund. After confirming that the product has not been damaged on purpose, we will send a full refund or exchange the product for free.
Non Quality Issues — If customers wish to return an item for non quality reasons within 7 days after receiving the product, we will return 85% the full price (15% will be withheld to cover the shipping fee) for non-Express shipping order; While for DHL/Express shipping order, we do not refund the Express shipping fee included.
Returned products should be in original condition with original packaging. If an accessory or the original item was lost during the process of returning, we will deduct the price of the lost item from the refund.
Return Guide
If you need to return your order for getting replacement / refund, we hope you see instructions below for how to return a package.
Instructions
1. If you need to return your order for any reason, please contact us and tell us why. We will do our very best to resolve any problem caused by us or our shipper.
2. Please make sure the item was originally purchased from R4 DS Australia. Please ensure the item wasn't suffered damage by you.
3. In order to save the shipping fee and avoid customers clearance, we suggest you input the 3ds/r4/r4i cards in a simple envelope. Ship out via Surface Air Mail or Registered Air Mail.
a) If conditions permit, please print a partial eamils record and highlight the order ID . Or prepare for a piece of paper and write down your Order ID. With this order ID, we can handle your case quicker.
b)Except 3DS Card / R4 ds card /r4i dsi cards, do not insert any packaging, accessories or anything else if it is for replacement. Please also attch the cards to the paper. If it is for full refund, please return the whole pacakges.
Enclose the pictures for your reference ………