Catridges here work as adapters between ROMs saved on memory card and Nintendo hand-held console, softwares – kernel are required to be installed accordingly to get game compatibility. Therefore, wrong kernel or wrong installation will get games not working.
However, Nintendo will usually update its flashcard black list for every system update, once your card gets listed, 3DS/DSi will be locked into black screen and shows error message as shown.
" An error has occurred. Press and hold the POWER Button to turn the system off. Please refer to the Operations Manual for details."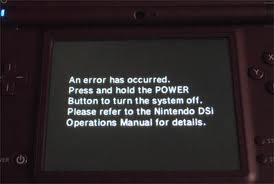 We then need to do firmware upgrade to bypass the console block. Flashcard companies will release their official firmware patches to fix it.
Sometimes, we want to enjoy more media like rpg movies, mp3 music, jpg images and text files, then we need to install additional Moonshell although it is included into kernel most of the time.
Software Download Area
Where to download their latest kernel, firmware patch or moonshell ? Download from their official web pages. There usually is an web address printed on the card sticker and packing box.
(a) WWW.R4I-SDHC.COM on sticker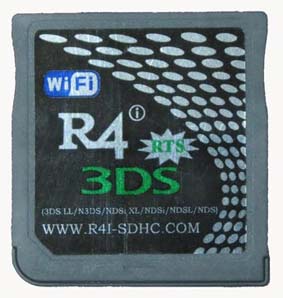 (b) Http://WWW.R4I-SDHC.COM on box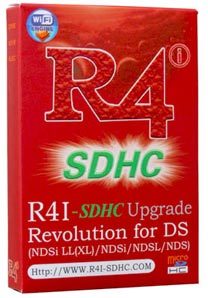 If you do not know how to install or update, you can click the links below to get the guide, or contact us directly.
R4 DS Card – WWW.R4DS.COM – Installation Guide
R4 SDHC DS card – WWW.R4I-SDHC.COM – Installation Guide
R4i SDHC V1.4.5/4/3/2/1 – WWW.R4I-SDHC.COM – Installation Guide
R4i SDHC 3DS RTS/V5.0/V4.5/null – WWW.R4I-SDHC.COM – Installation Guide
R4i Gold Pro 2013/2012 – www.r4i-gold.com – Installation Guide
R4i Gold Plus – www.r4ids.com – Installation Guide
Wood R4i Gold 3DS RTS – www.r4ids.cn – Installation Guide
M3i Zero GMP-Z003 – www.m3adapter.com – Installation Guide
DSTWO – www.supercard.sc – Installation Guide
R4iTT Purple 2014 – www.r4itt.net – Installation Guide